Now it's time for Upper Deck's answer to Topps' Allen & Ginter. I love retro sets, especially when they emulate their inspiration. Upper Deck didn't stray too far from the 1934 Goudey design (correct me if I'm wrong) which was the model for the '08 set.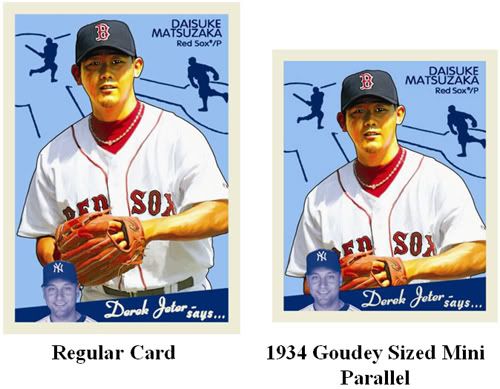 2008 Upper Deck Goudey (Photo stolen from Mario at
Wax Heaven
)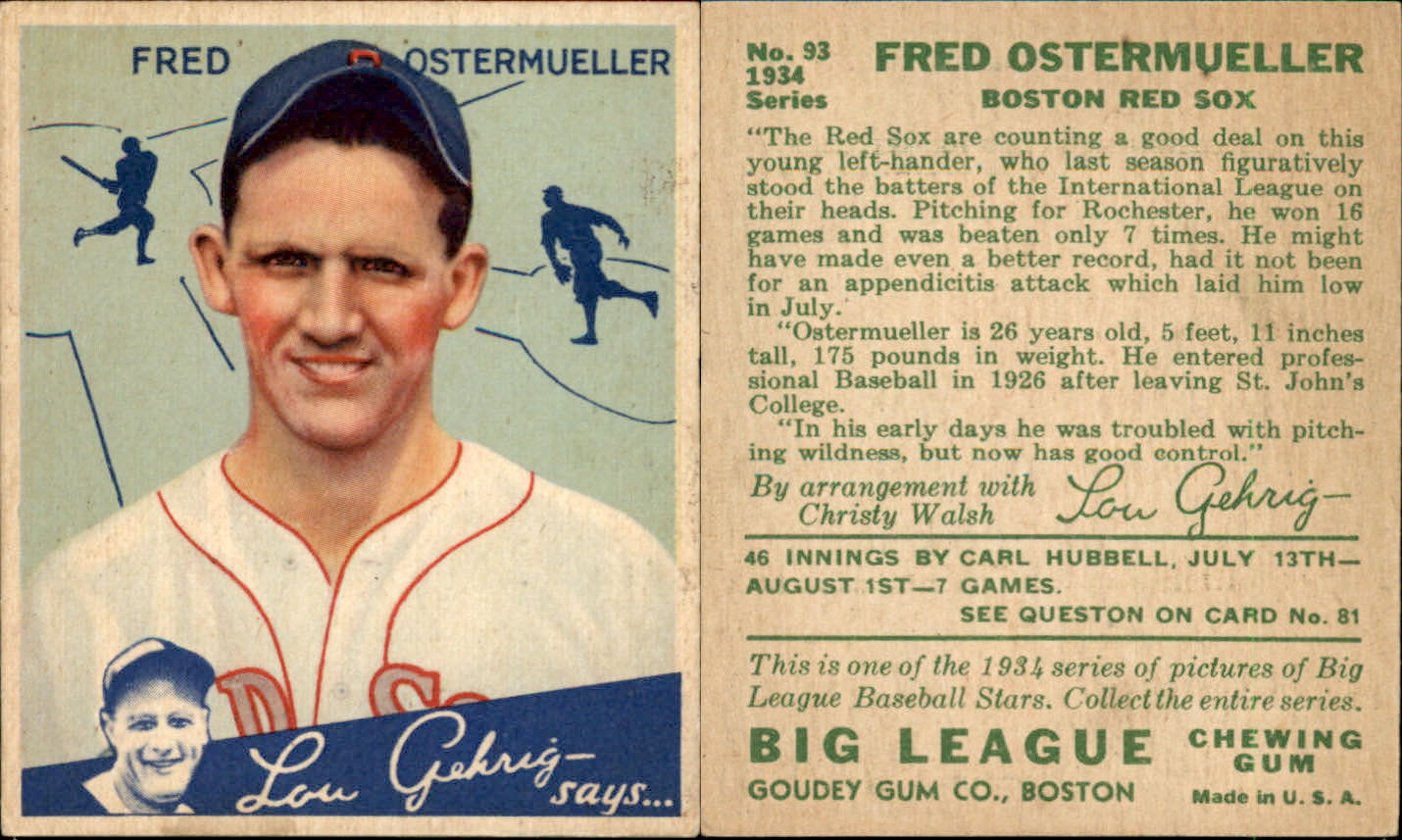 1934 Goudey
Odds per pack aren't listed on either the retail and hobby wrappers, but I can tell you that there are 8 cards per pack unless, of course, you pull something
real purty
like a game-used relic [foreshadowing statement].
Dave at Fielder's Choice
has done both the dirty work as well as complete a pretty solid product review of a couple of boxes that you can check out.
Dayf at Cardboard Junkie
has done an equally impressive review as well. I'll let the big guns in the blogosphere share their opinions...
... I'll just rip it and write it.
Pack 1:
7 Mark Teixeira
152 Tom Gorzelanny
100 Chin-Lung Hu's
on first
at shortstop
189 Vernon Wells
137 Catfish Hunter
228 Bob Gibson (Mini/Red Back)
48 Joe Morgan
256 David Ortiz (
1936 Black & White
)... chest sweat is a glaring variation from the '36 design
Pack 2:
85 J.R. Towles
M-MB Mark Buehrle (Game-Used)...
All yours, Steve
205 Carlton Fisk (Black Back)
100 Chin-Lung Hu (Mini/Blue Back)
92 Chone "Not Sean/I mean business" Figgins
111 Delmon Young
Obviously the Buehrle relic was the pull of the day, especially keeping in consideration the fact that these were retail packs. All-in-all, not too shabby, though I was expecting to see a larger variety of cards outside of the base set. A "Sports Royalty" or even a Yankee Stadium Legacy insert would have been kind of nice. I'm a big fan of the "throwback" cards like Catfish Hunter, Joe Morgan and Carlton Fisk, however.
I'm not sure if you'll see any box breaks of this '08 Goudey here at Wax Breaker, but I'll definitely purchase some more packs, both hobby and retail. I'll have a hobby pack break to come later in the week, so be sure to check back in for that.
That's all I got...
- J.C.F.